Grenada Football Leagues

Grenada Football Leagues
To become the leading Football League in the Caribbean
News Report
St. Paul's are the new Champions of the Nixon's Electrical National Masters Competition 2015.
Author: Lester F Smith, 23/04/15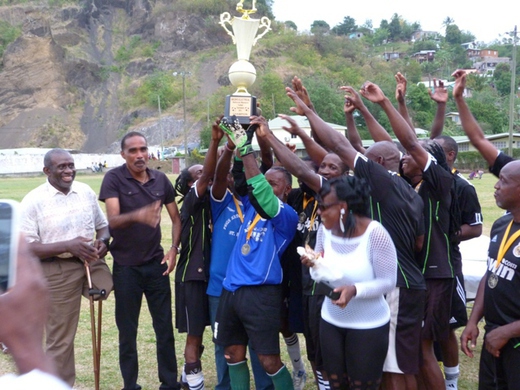 "Kicks from the Penalty Mark" had to decide the Finals of the National Masters Football Competition. Grand Mal Generals went ahead early in the first half with Carl Sylvester receiving a through pass and placed it far from the experience St. Paul's Goalkeeper Thomas "Billy" Alexis. The match attracted a large crowd as both teams came with several supporters.
The confident Grand Mal Generals would have thought that the victory was sealed only to allow for a defensive laps as substitute Devon Mapp netted in the dying stages thus sending the match in penalty shoot out. St. Paul's emerged victorious 4-3 at the end of the shoot out.
One of the features of the final was the appearance of Mr. Herman "Mello" Peters as the Guest of Honor for the Finals. Mr. Peters, considered a former national great not only played for Grenada in football but also played others sports to which he was very good at including basketball. He met with both teams and also presented awards to the various outstanding performances. He received special commendation and appreciation from Lester Smith, the Chairman of the Organizing Committee for Masters Football. In addition he was presented with a special ball which was signed by football greats at the venue, the likes of Garvey Wilson, Kenton Roberts, Ricky Charles and Francis Phillip to mention a few.
A number of other important awards was presented. Thomas Alexis received for Best Goalkeeper. Roger Bruno for Player of the Finals and also the Golden Ball. Paul Thomas got the coveted golden Boot for scoring five (5) in the Tournament. On hand to make the presentations was the sponsor for the Tournament Barry Nixon representing Nixon's Electrical Services.
Follow the league to get the latest news and results straight to your email