Grenada Football Leagues

Grenada Football Leagues
To become the leading Football League in the Caribbean
News Report
Real Old Men are the Champions of Masters Football.
Author: Lester Smith, 30/04/16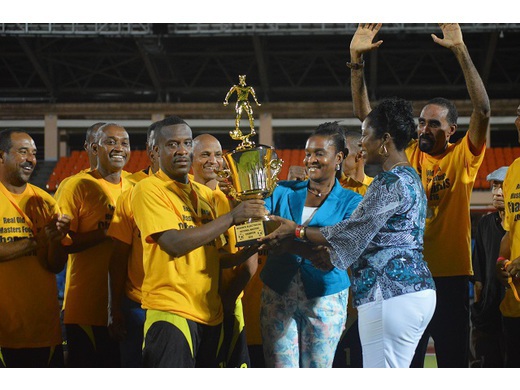 A lone goal, in the second half from Keith"Preggie" Mc Quilkin, down-pressed the hearts of the Happy Hill Old Boys fans and players.
It was scenes of jubilations in the Real Old Men camp as they adorned themselves with Gold T-shirts with the words, "We are the Champions" after the match.
The match which lasted for eighty (80) minutes was highly competitive as both teams had good chances of scoring in the first half. But it was the experience of former champions in 2012, Real Old Men that prove the better team on the night.
At the end of the match there was a prize-giving ceremony. Attending and presenting awards were: The Honorable Minister of Sports – Hon. Emmlin Pierre; Former West Indies Player – Mr. Junior Murray; Grenada Football Association Representative for St. George's – Mr. Nigel Gibbs; Representative from sponsor NEWIM – Mr. Marcus Purcell; The Title Sponsor from Nixon's Electrical – Mrs. Sally-Ann Nixon, and Guest of Honor Mr. Tyon "Sampat" Harbin.
Mr. Ricky "Curry" Charles received the award for the Just Brand Most Valuable Player of the tournament. Mr. Tyron "Sampat" Harbin received the prestigious award for Honorary Service to Sports in Grenada. Then it was Dwight Mc Intyre who together with his teammates that lifted to coveted Championship Trophy with the music of D J Bravo "champion" after receiving it from both the Minister of Sports and the Title Sponsor.
Earlier in the evening, X-Nationals and SGU Glovers Spice Boys played a friendly match. This match was officially played as the Kellon Baptise Memorial Match. All of the players who played for X-Nationals were persons who would have played with Kellon during his time as a Goalkeeper with National team. The match ended 3-1 in favor of SGU Glovers Spiceboys.
However, the stadium was lifted when former Grenadian International Star Jason Roberts graced the field of play and scored the lone goal for X-Nationals from a free kick outside the18 yard box.
Mr. Kenroy Baptiste, the brother of Kellon Baptiste presented the Kellon Baptiste Memorial Trophy to the winning team.
What next for Masters Football? Well the organizers Just Sports is looking forward to have the champion team in Trinidad to come over to Grenada to play the winners Real Old Men at the National Stadium later in the year.
Follow the league to get the latest news and results straight to your email