Grenada Football Leagues

Grenada Football Leagues
To become the leading Football League in the Caribbean
News Report
Four matches to be played in Masters Football over the weekend at Queens Park.
Author: Lester F Smith, 31/01/17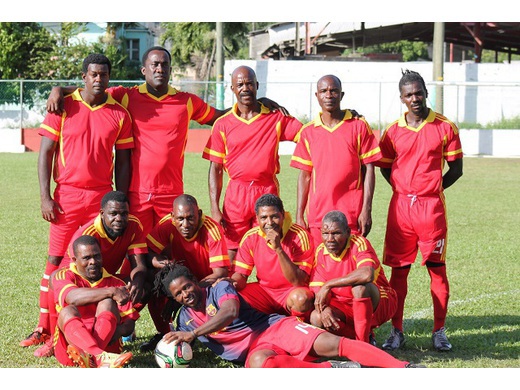 Just Sports St. George's Grenada 30.01.2017 Four (4) matches will be played over the weekend in the National Masters Football Competition.
On Saturday, Christian Strikers and New Hampshire Masters played in the first of a doubleheader at the Queens Park from 3:00 p.m. The forty plus religious men who drew their first game last week 1-1 against Grand Mal Generals edged past New Hampshire Masters 1-0 with a late goal from the boot of Pastor Oscar Ruebin. This is New Hampshire United second lost from their two (2) matches already losing to Happy Hill Old Boys 2-1 in their first game.
The second game on Saturday featured current Champions Real Old Men and Veterans. Veterans are boasting star-studded former national striker Ashley "Jaho" Cyrus who scored the first hat-trick of the tournament against Peter David Queens Park Rangers last Sunday also had in their line up former nationals Eric Thomas and Dexter Lawrence and although losing their first match last week, they put on a stalwart performance scoring two goals in the first half, Trevor Wells in the 22nd minute and new signing Keith Jacob in the 30###sup/sup### minute of play. Ally Raymond was able to pull back one for Real Old Men at the stroke of regulation time end the game 2-1 in favor of Veterans.
On Sunday, St. Paul's looked rather passive as the men from the northern Parish, St. Patrick's Masters trounced St. Paul's 4-1 in the blazing sun at Queens Park.
It was St. Patrick's Masters first match in the Tournament while St. Paul's was on the losing end again after being beaten by Real Old Men in the opening round of matches.
Scoring for St. Patrick's Masters were: Pastor Dave King (6###sup/sup### min.), former national midfielder Tyron John (27###sup/sup### min.) and a double from Emerson Baptiste (32nd and 60###sup/sup### min.) sealed the victory.
Lyndon Bubb scored the lone goal for St. Paul's in the 75###sup/sup### min. from the penalty spot.
The other match on Sunday featured home team Peter David QPR against newcomers Grand Roy. Rangers were in dominant form as the won quite comfortably 4-0 pushing at the top of the group.
A goal each from Ron Joseph, Stanley Lewis, Leroy Baptiste and Randy Boca was more than enough for the win.
Matches continue this weekend. The Tournament is divided into two (2) groups with the top four (4) finishers advancing to the Quarter Finals. The Final is carded for April 15 at the National Stadium.
Follow the league to get the latest news and results straight to your email