Grenada Football Leagues

Grenada Football Leagues
To become the leading Football League in the Caribbean
News Report
Five matches to be played in Masters Football this weekend.
Author: Lester F Smith, 27/01/17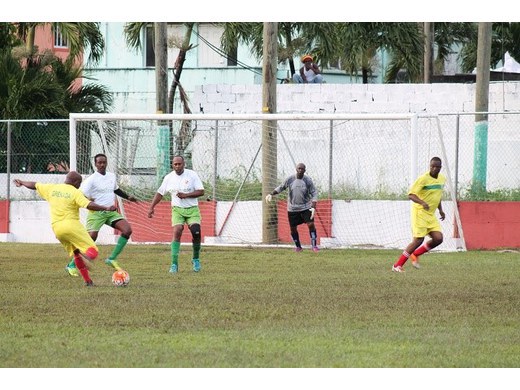 On Saturday, the ball will start rolling when Christian Strikers and New Hampshire Masters will play in the first game of a doubleheader at the Queens Park from 3:00 p.m. The forty plus religious men drew their first game last week 1-1 against Grand Mal Generals while New Hampshire Masters lost to Happy Hill Old Boys 2-1 in their first game.
The second game on Saturday will feature current Champions Real Old Men and Veterans will square off at 5:00 p.m. Veterans are boasting star-studded former national striker Ashley "Jaho" Cyrus who scored the first hattrick of the tournament against Peter david Queens park Rangers last Sunday although his team lost at the end of play.
On Sunday, St. Paul's will start play with St. Patrick's Masters from 3:00 p.m. at Queens Park. It will be St. Patrick's Masters first match in the Tournament while St. Paul's was on the losing end to Real Old Men.
At 5:00 p.m. Just Brands Big Parish will journey down to Queens Park to play against their western counterparts St. John's Wizards. Both teams are playing their first match.
The final match on Sunday features home team Peter David QPR against newcomers Grand Roy from 7:00 p.m.
Follow the league to get the latest news and results straight to your email